Con US $ 5,4 millones en ganancias en torneos y su segundo brazalete en Las Vegas este verano, Vanessa Selbst es, sencillamente, la mejor jugadora de poker del mundo. Entrevista de la revista bluff europe a Vanessa Selbst al final de la nota les dejamos el original en inglés…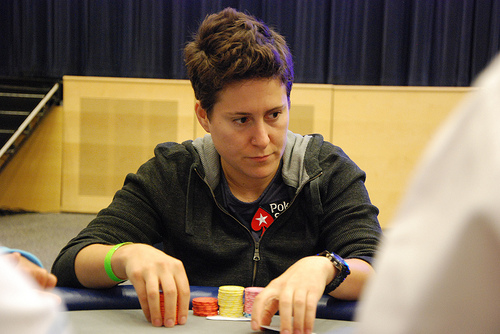 Como fueron tus inicios en el Poker?
Empecé a jugar Poker desde niña solo por diversión, y después con amigos de la escuela secundaria. Ya en la Universidad me enteré del Poker Online fue así como ella incurcioné en el mundo del Poker
 Los Jóvenes de hoy se sumergen completamente en el Poker en detrimento de sus estudios, sin embargo vos encontraste el tiempo para estudiar Derecho en la Universidad de Yale.Como balanceaste el Poker y los estudios?
Fue en momentos diferentes, cuando decidí volver a estudiar ya había estado jugando al poker profesionalmente. Me di cuenta de que no iba a poder equilibrar las dos cosas porque cuando jugás al poker es dificíl no meterte de lleno.Entonces saque todo el dinero que tenia en mi cuenta para no caer en la tentación de jugar.Asi que los primeros años en la Universidad jugué muy poco…Jugué el Aussie Million en vacaciones de invierno, algunos torneos importantes en vacaciones de verano.En resumen habré jugado unos 15 torneos a lo largo de aquellos dos primeros años de universidad, pero tengo que reconocer que me fue muy bien …
Cuando llegué a mi tercer año me di cuenta de que había estado extrañando al poker demasiado y decidí que quería volver a jugar profesionalmente. Fue difícil porque tenia que estudiar, pero yo sabía que era sólo por un año y sabía que tenía que hacerlo porque realmente quería mi título. He descargado todos mis libros de texto en mi iPad y luego si estaba viajando cualquier lugarera bueno para la lectura. Fue duro pero lo terminé.
Siempre había tenido entendido que los europeos decían que los estadounidenses no podrían jugar Omaha muy bien. La primera vez que escuchamos tu nombre fue cuando los profesionales británicos volvían de Vegas diciendo: «Oh Dios, hay que ponerse al día! Hay una chica llamada Vanessa … «
(Risas) En términos de la American Omaha «revival», me metí en él bastante pronto. Empecé a jugar  Omaha en la época en que empecé a jugar Hold'em. Yo sabía sobre el juego y me gustó mucho porque había un montón de acción y fue muy divertido, así que yo estaba desarrollando mi juego Hold'em y también jugaba Omaha con bastante regularidad. En aquel entonces – alrededor de 2004 – Hold'em era bastante suave pero Omaha era una broma y cualquiera que supiera cómo jugar el juego podría ganar dinero. Así que yo estaba jugaba  $ 2 – $ 4 OLP y fue bastante fácil. Y luego, en 2008 gané mi brazalete en la OLP. 
Academicamente sos brillante. Alguna vez tus padres se preocuparon porque estabas «desperdiciando» tu talento en el poker?
Cuando empecé a jugar al poker mi madre estaba ya metida en este mundo. Ella pagó sus estudios universitarios jugando al poker. Tuve suerte porque hay muchas personas que no son aprobadas hasta que comienzan los éxitos pero mi madre me apoyó desde el principio. Lamentablemnte ella falleció en el 2005 justo cuando empecé a despegar en mi carrera. Pero siento que ella estaría muy orgullosa de mí.
Crees que tenés un talento natural para jugar al poker o fue fruto del trabajo duro y el esfuerzo?
Yo creo que tengo un talento natural. Principalmente porque me encanta la estrategia y los juegos. He sido un jugadora toda mi vida y soy muy competitiva. Cualquier tipo de juego; Scrabble con amigos en línea – cualquier cosa – me pongo muycontenta por ello y sólo quiero ganar. Tienes que tener un talento natural, pero luego hay que trabajar duro – o al menos una gran cantidad de trabajo. Para mí no fue difícil porque me encantó. Cuando empecé a jugar yo estaba tan metida que, durante los primeros tres o cuatro años, realmente no podía hacer otra cosa que jugar. Yo estaba pensando en poker todo el tiempo. Creo que ese tipo de unión y la pasión separa a los buenos jugadores de los jugadores realmente superiores.
Que significó ganar un brazalete este año?
Un gran orgullo. Trabajé muy duro este año, especialmente en los juegos mixtos. Me sentí muy bien al ganar mi segundo brazalete porque la gente siempre piensa que la primera vez pudo ser casualidad.Fue muy especial.
Sos la más exitosa jugadora de poker de los últimos cinco años y sos es también la única abiertamente declarada gay en el ámbito de jugadores elite poker femeninos. ¿Sientes alguna responsabilidad de ser un modelo para las mujeres y la comunidad gay? 
Siento mucha más responsabilidad como jugador de poker gay. Creo que ser una mujer en el centro de atención que está teniendo éxito en lo que haces es grande, pero personalmente lo que es más importante que yo soy una mujer gay en el centro de atención – sobre todo una mujer que no esta conforme con su género. La gente bromea que me veo como un chico y no me molesta para nada. Yo sé cómo soy  y estoy totalmente a gusto con lo que soy.  Hay tan poca gente como yo en el punto de mira que  siento que es muy importante ser honesta y abierta acerca de quién soy yo cada vez que puedo.
El Poker es  un entorno dominado por los hombres y muy  conservador. ¿Se ha enfrentado una gran cantidad de prejuicios?
El Poker es definitivamente dominado por los hombres y sin duda es machista a veces, pero al final del día también es una meritocracia. Las cartas no se preocupan por tu género u orientación sexual. Pero hay actitudes negativas hacia las mujeres en el poker, tal vez no tanto hacia las personas homosexuales, aunque me doy cuenta de que la gente siempre habla cosas sobre mí, que es casi lo contrario a la verdad. Quiero decir, estoy muy centrada en las mesas y esas cosas, pero creo que la gente ve lo que quiere ver y de que parte de una idea preconcebida acerca de las lesbianas «butch». Esperan que nos enoje y seamos negativos y por lo tanto creo que hay un poco de homofobia en eso. Pero en términos de las personas que se asocian con – las personas que están viajando por el circuito – es siempre más o menos positiva. Creo que los jugadores de póquer consagrados son más inteligentes, liberales, bien viajados y así sucesivamente – lo que ayuda, creo. No es ninguna sorpresa que los jugadores de elite sean tolerantes, porque son los más inteligentes y saben que el machismo y la homofobia son una estupidez.
¿Va a ser siempre un jugador de poker o es la Ley de Derechos Civiles tu verdadera vocación?
Siempre voy a ser jugadora de poker. Puede que no siempre lo haré para ganarme la vida, pero siempre voy a ser una jugadora de poker, si entendés lo que quiero decir. Ahí está la parte de mí que siempre va a estar hablando de probabilidades o de pensar en términos de estrategia. ¿Siempre lo haré para ganarme la vida? No se. Depende de lo que ocurra con la industria y cómo me siento.  No tengo planes para convertirse en un abogado de inmediato, pero sí sé que voy a utilizar mi título de abogado con el tiempo. No sé cuándo va a ser, pero estoy contenta que lo tengo porque tengo un montón de aspiraciones en términos de trabajar por los derechos civiles – ya sea a través de hacer un montón de dinero en el poker y luego usar ese dinero para alcanzar esos objetivos… no lo sé.
Vanessa, evidentemente tienés una conciencia social. ¿El dinero que has hecho te da el poder para hacer un mundo mejor?
Por supuesto. Toda organización necesita dinero. Me siento muy afortunada de que puedo llegar a hacer algo que me encanta y puedo usar el dinero que viene con él para hacer cosas buenas. Algún día podré empezar mi propia fundación o de simplemente donar un porcentaje de mis ingresos –  es algo muy importante para mí y se trata de reconocer lo afortunada que soy.
¿Tenés la sensación de que, como una persona brillante, como sos,  podrías terminar lamentando una vida dedicada al póker en lugar de una dedicada a hacer del mundo un lugar mejor?
Bueno, no lo sé. Yo creo que si amo mi carrera y estoy en la posición en la que estoy haciendo cosas muy buenas con mi dinero no tendré remordimientos. Pero si acaban soplando mi bankroll y no he hecho nada por nadie – entonces sí, voy a tener muchos remordimientos. Pero de cualquier manera, creo que va a ser importante para mí no jugar poker todo el tiempo y hacer cosas positivas fuera del póquer, sin importar el estado de mi carrera en el poker . Creo que cuando uno es joven, especialmente como un jugador de póquer, es fácil pasar por alto las responsabilidades sociales, pero somos lo suficientemente adultos ahora. Somos capaces de hacer una diferencia real y creo que es importante que lo hagamos.
…
How did you first get into poker, Vanessa?
I played as a kid – you know, just for fun – and then with my friends in high school. In college I found this home game with some players who were pretty serious and they turned me on to online poker. So I started playing online and I joined the 2+2 poker forums and they were pretty instrumental in my development because it was a network of players across the world discussing strategy, and that's honestly how I got better.
Most young players these days utterly immerse themselves in poker to the detriment of their studies, yet you found the time to study law at Yale. How did you balance the two?
I kind of did them at different times. It was 2008 when I went back to school for post-grad studies and I'd already been playing poker professionally. I realised I wouldn't be able to balance the two because when you're playing poker it's hard not to get completely wrapped up in it. I took out all the money I had online because I knew that if I had money in an account I'd just be tempted to play. So the first few years of law school, I didn't really play that much poker. I played the Aussie Millions on winter break and a few World Series events on summer break, but I had summer jobs as well. So I played maybe a total of 15 tournaments over the course of those two years, which isn't very much at all when you think about it – but I was fortunate enough to do extremely well in those tournaments.
When I got to my third year I realised I had really been missing poker a lot and decided I wanted to get back into it professionally. I took a semester off to refocus and then it was really only on my last year that I had to balance it with my studies. It was tough because there was a lot of study, but I knew it was just for one year and I knew I just had to do it because I really wanted my degree. I downloaded all my text books on my iPad and then if I was flying anywhere I would be reading for school. I'd obviously have to miss a lot of tournaments I wanted to play but it was just about figuring out what was necessary. I didn't take exactly the classes I wanted to because I figured I had to take some classes where attendance was less important. But really it was just one year of solid hard work and now it's over, thankfully.
There was always this sense in Europe that Americans couldn't play Omaha very well. The first time we started hearing your name was when British pros were coming back from Vegas saying, "Oh God, they're catching us up! There's this girl called Vanessa…"
(Laughs) In terms of the American Omaha "revival", I got into it pretty early on. I started playing Omaha around the time I started playing Hold'em. I knew about the game and I really liked it because there was a lot of action and it was fun, so as I was developing my Hold'em game I was also playing Omaha pretty regularly. Back then – around 2004 – Hold'em was pretty soft but Omaha was a joke and anyone who knew how to play the game could make money. So I was playing a lot of $2-$4 PLO and it was pretty easy. And then in 2008 I won my bracelet in PLO. I didn't really play many Omaha tournaments until that summer, so it was pretty cool to win that bracelet.
But yes, the game has been picking up over here. I guess that more people have been taking notice. I've been making videos for Deuces Cracked for a long time and I made a few about Omaha, I think around 2007, so there was obviously an interest around then and I think that's about the time the game was starting to catch on a little bit.
You're obviously very academically bright. Were your parents ever worried that you were wasting your talents on poker?
When I started playing poker my mom was really into it. She went to MIT as an undergrad and she paid her way through college playing poker. She went on to become an options trader and, as a lot of people know, there's a big crossover between trading and poker – so she would play poker recreationally with her friends and she was always the winner. So it was actually something we could bond and connect through. I was lucky. A lot of people have that story where their parents didn't approve until they started getting really successful, but my mom was really super-supportive from really early on. Unfortunately, she passed away in 2005, around when my career started to take off. But I'm sure she'd be really proud of me if she were alive now.
Do you think you have a natural talent for the game or has it been down to hard work?
I do think I have a natural talent. I think the main thing that makes me good is that I love strategy and games. I've just got one of those brains. I've been a games player my whole life and I'm competitive too. Any kind of game; Scrabble with friends online – anything – I just get really excited about it and just want to win. So I think you need a passion for that, first of all. You have to have a natural talent but then it takes hard work – or at least a lot of work. For me it wasn't hard because I loved it. When I started playing I was so into it that, for the first three or four years, I really couldn't do anything else. I was pretty much playing or thinking about poker the entire time. I think it's that kind of drive and passion that separates the good players from the really top players.
What did winning a bracelet this year mean to you?
It felt like a tremendous accomplishment. I've really worked hard this year, especially at mixed games. I think a lot of people saw me as a big bet specialist who didn't know anything else about poker and so to win it in the 10-game was really special for me. Beyond that, it felt good to win a second bracelet because people always think the first one might just be a fluke. My goal coming into the Series was to make two final tables and win a bracelet – and those were pretty high expectations for myself, so to be able to accomplish them was pretty special.
You're the most successful female poker player of the last five years and you're also the only openly gay high-profile female poker player. Do you feel any responsibility to be a role model for women and the gay community? Is one more important than the other to you?
I feel much more responsibility as a gay poker player. I think being a woman in the spotlight who is succeeding at what she does is great, but personally it's more important that I'm a gay woman in the spotlight – particularly a woman who is non-gender-conforming. People joke that I look like a boy and I'm fine with that. I know how I come across and I'm totally comfortable with who I am. Being someone who has received a lot of media attention despite not looking traditionally feminine is something that's very important to me because there are a lot of kids out there who are struggling with their sexual identity or their gender identity, and to see someone like me receive positive attention in the media is very important because they often don't know there are people out there who are like them. There are so few people like me in the spotlight that I just feel it's really important to be honest and open about who I am whenever I can.
Poker's quite a male-dominated and conservative environment. Have you faced a lot of prejudice?
Poker's definitely male-dominated and it's definitely sexist at times, but at the end of the day it's also a meritocracy. The cards don't care about your gender or sexual orientation. But there are negative attitudes towards women in poker; maybe less so towards gay people, although I notice that people are always commenting on how mean or angry I am, which is pretty much the opposite of the truth. I mean, I'm very focused at the tables and stuff, but I think people see what they want to see and it's part of a preconceived notion about butch lesbians. They expect me to be angry and negative and so I think there's a little bit of homophobia in that. But in terms of the people I associate with – the people who are travelling the circuit – it's always pretty much positive. I think the very top poker players are more intelligent, liberal, well-travelled and so on – so that helps, I think. There's no surprise that the players at the top are more accepting because they're the smart ones and they know sexism and homophobia are just stupid.
It was tough coming up. I probably did play into the stereotype a bit because I probably was a little angry. I was more insecure about who I was and also my poker-playing ability. I was 21, 22, and I think all 21- and 22-years-olds have a lot of insecurities. I don't think I dealt that well with people who were negative or sexist or homophobic towards me and I think I reacted poorly. But it's just a question of maturity and being more secure about who I am. Success is a part of that but it's also just about growing up and realising that when people are angry it's something to do with them rather than you.
Will you always be a poker player or is Civil Rights Law your true vocation?
I'll always be a poker player. I may not always do it for a living but I'll always be a poker player, if you know what I mean. There's the part of me that will always be talking about odds or thinking in terms of strategy. Will I always do it for a living? I don't know. It depends on what happens to the industry and how I feel. I mean, I'm a "take things as they come" kind of person. I don't have plans to become a lawyer immediately but I do know that I will use my law degree eventually. I don't know when that's going to be but I'm just pleased I got it because I do have a lot of aspirations in terms of working for civil rights – whether that's through making a lot of money in poker and then using that money to achieve those goals or whether it's actively working in the field – I don't know… it depends.
You obviously have a social conscience. Does the money you've made give you the power to change the world for the better?
Of course. Every organisation needs money. I feel really lucky that I get to do something that I love and I can use the money that comes with it to do good things. But it really depends on how well I can keep doing and how much I can keep winning – whether I can one day start my own foundation or whether it's a question of just donating a percentage of my income – but it's something that's very important to me and it's about recognising how lucky I am.
Is there a sense that, as such a bright individual, you might end up regretting a life devoted to poker rather than one devoted to making the world a better place?
Well, I don't know. I think that if I end up loving my career and being in the position where I'm doing really good things with my money I won't have regrets. But if I wind up blowing my bankroll and find myself 50 and broke and I haven't done anything for anyone – then yes, I will have lots of regrets. But either way, I think it's going to be important to me to not play poker all the time and do positive things outside of poker, no matter what the state of my poker career is. I think when you're young, especially as a poker player, it's easy to ignore those social responsibilities; to put them off to a later date, but we're old enough now. We're able to make a real difference and I think it's important that we do.
Fuente:bluffeurope.com