Undoubtedly for those who followed the last stages of the days 6 and 7 of the Main Event was a surprise that Sam Holden, a very intelligent an curly English, with just 22 years became one of the November Nine. But he trusted in himself and still being short stack for several passages in the fight, played each hand and was able to fulfill his first dream: to pass into history and play the final table of the most important tournament in the poker world.
But his dream is just beginning, though left behind thousands of players who began this crossing. Now only eight players stand between him and the much coveted bracelet. In this exclusive interview for www.hablandodepoker.com, a site that tries to spread the poker through the word of the protagonists, we can know what a November Nine thinks. From what we perceive, he is the still not aware of how changed his life from now on.
To our loyal readers we present: Sam Holdem, a November Nine, 48 hours later of his achievement.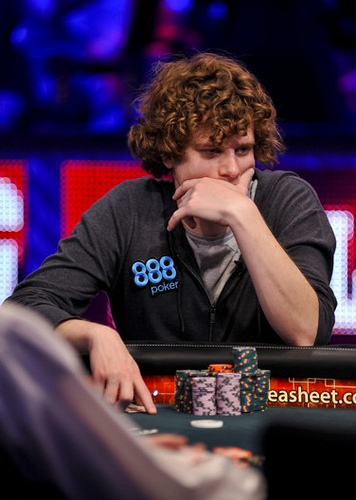 What means to you to be a November Nine?
It feels fantastic to be part of the November Nine. Being on the biggest stage in poker is something every poker player dreams of. The hiatus in the tournament has really made the final nine something special, and having 4 months to enjoy it is going to be a lot of. I feel incredibly fortunate to get passed so many fantastic players and therefore will definitely try to enjoy every second of being a 'November Niner'.
48 hours later that moment, Are you conscious about what you`ve achieved?
It definitely hasn't sunk I yet. I still keep thinking that it can't be real. I'm sure once I am into the swing of these interviews and media attention it will all seem more real.
Could you sleep the night after the tournament?
A little, but it was very difficult! I think I have had about 5 hours sleep in the last 48 hours. I am definitely ready to sleep for a long time now though!
Which was the most important hand that let you reach to the final table at the Main Event WSOP 2011?
I was actually all in on day 2 with a pair and flush draw on the flop against a set. I made the flush on the turn wasn't all in again until Day 6 I think so I guess that was a pretty important hand!