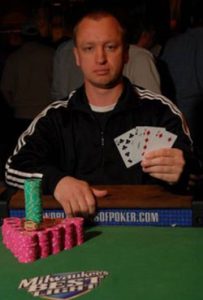 Completing his education, he became an astute businessman and quickly found success, along with the ability to invest in various businesses in Russia. But it was during his leisure time that he took up blackjack and began to frequent gaming establishments. He did well at the game and moved on to Oasis, a form of poker that was similar to Caribbean Stud.
Alexander Kravchenko's Profile
However, he couldn't help but notice the trend in the late 1990's that involved poker. Kravchenko realized the level of skill that was involved and the game and quickly set about studying it. He began to play primarily hold'em in casinos, and the money he made eclipsed that from his businesses, so the focus of his energies centered on poker tournaments going forward. By 1997, he was a recognized player in local establishments, and his tournament play began to show results in 1999.
The first tournament series Kravchenko played was the Moscow International in December of 1999, and he made final tables of three events, two of them hold'em and one of them seven-card stud. By 2001, he was traveling to more events, final tabling tournaments at the Open Championships of Russia in St. Petersburg, the Vienna Spring Festival, the Austrian Masters, the Autumn Tournament in Paris, the Winter Tournament Olympia in St. Petersburg, and the Helsinki Freezeout. He claimed victories at the Olympia and the Moscow Open that year as well.