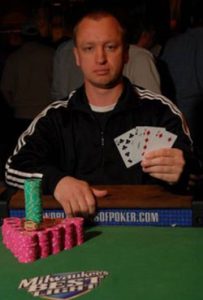 Completing his education, he became an astute businessman and quickly found success, along with the ability to invest in various businesses in Russia. But it was during his leisure time that he took up blackjack and began to frequent gaming establishments. He did well at the game and moved on to Oasis, a form of poker that was similar to Caribbean Stud.
Alexander Kravchenko's Profile
However, he couldn't help but notice the trend in the late 1990's that involved poker. Kravchenko realized the level of skill that was involved and the game and quickly set about studying it. He began to play primarily hold'em in casinos, and the money he made eclipsed that from his businesses, so the focus of his energies centered on poker tournaments going forward. By 1997, he was a recognized player in local establishments, and his tournament play began to show results in 1999.
The first tournament series Kravchenko played was the Moscow International in December of 1999, and he made final tables of three events, two of them hold'em and one of them seven-card stud. By 2001, he was traveling to more events, final tabling tournaments at the Open Championships of Russia in St. Petersburg, the Vienna Spring Festival, the Austrian Masters, the Autumn Tournament in Paris, the Winter Tournament Olympia in St. Petersburg, and the Helsinki Freezeout. He claimed victories at the Olympia and the Moscow Open that year as well.
By 2004, Kravchenko noticed that the rest of the world offered poker tournament opportunities as well, and he began to travel to far-off locations to compete. It seemed that a trip to Paris for the World Poker Tour's Rendezvous a Paris that year inspired him to follow the WPT when possible, and he did just that when the WPT headed to Aruba for the Poker Classic there and the Bahamas for the PokerStars Caribbean Adventure. He continued to cash and run well in numerous WPT events, though he has yet to score a title.
But by 2006, he was feeling comfortable with Las Vegas and taking his shots at the World Series of Poker. He cashed twice that year, but 2007 was to be his year to shine. He started the WSOP that summer with a victory, something that takes most players years to pursue before achieving that goal. But Kravchenko won the $1,500 buy-in Omaha hi-lo split-8-or-better tournament, which was good for his first gold bracelet and $228,446 in cash. He also cashed in six other events that summer, the best performance of which happened in the $10,000 buy-in no-limit hold'em Main Event. He made it to the final table and beat players like Lee Watkinson to get there, ultimately finishing in fourth place for $1,852,721 out of 6,358 starting players. He had another stellar WSOP year in 2009 with six cashes, one of which was a final table, and in 2010 with six more cashes, several of which were final table finishes.
Kravchenko also has many European Poker Tour performances of note on his record, though he has yet to made a final table. And most recently, he participated in a new PokerStars-sponsored series on his home turf called the Russian Poker Series, finishing in 14th place in the 2010 Riga tournament stop's Main Event.
All in all, he has earned more than $3.5 million in live tournaments to date, a span of time which is little more than a decade long, and become one of the leading money earners in the world hailing from Russia. He also caught the attention of PokerStars and garnered a sponsorship and membership with Team PokerStars Pro. He represents the online poker site in live tournaments around the world as well as online, where he has found success. Most recently, he won an event in the World Championship of Online Poker (WCOOP), taking home $345,800 for winning the $10K buy-in 8-game high roller mixed tournament and a gold bracelet.
When not on the road, Kravchenko splits his time between his home country of Russia and a home in Monte Carlo. He spends time with his wife and children, as well as participates in sports like basketball and tennis. But when poker requires his suitcase to be packed, he is always ready for the challenge of the travel and the poker that awaits at each destination.
Source:  www.pokerpages.com