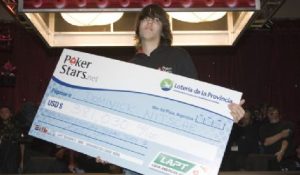 From his native Germany, the young European poker prodigy who stunned Argentina and South America in the LAPT in Mar del Plata in 2009, spoke exclusively to www.hablandodepoker.com about his life two years after that great achievement that was the inflection point in his career.
Dear Dominik, thanks a lot for answer our interview. It´s very important and It´s an honor tu us to make you an interview.
No problem you are welcome.
What do you remember about your first place in Mar del Plata two years ago?
Everything actually. I will  never forget such a big life changing win.
Please tell us something about you reacnh the LAPT playing satellites
Well i had quite a good record playing step 6 before. i already qualified for dortmund multiple times. So one day i was looking at the step  6s and i saw that they were running satellites to the lapt grandfinal. It was right during my holidays so i decided to go after talking to my friend Max Heinzelmann who also won a package. I actually ended up winning 5 seats and i am pretty sure i had the best winrate anyone has ever had in step 6s. i won 5 seats out of 10 tries. Thats a good return even if you do not cash in the main event.
What memories do you have from Argentina? Have you vissited our country on others times? Are you thinking of coming again to Argentina?
I have been to Argentina twice and i have nothing but good memories. The people are very nice even though most of them do not speak english they still try really hard to help you and make you feel welcome. The last time i have been Argentina was for the grandfinal of LAPT season 3 and i will most likely come back for any grandfinal.
Are you studying Spanish? Why?
It actually is one of my goals to learn spanish in the next 2-3years. this is because i spent a lot of time in spanish speaking countries and most of the people do not speak english at all so getting around and can sometimes be come quite difficult and stressful.