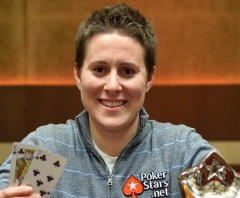 Vanessa Selbst began playing poker when she was a young girl in Montclair, New Jersey, though playing sports like basketball and tennis took much of her spare time. It was until she attended college at Yale University, where she eventually graduated in 2005 with a degree in political science, that she started to take the game more seriously. She played home games with friends with players like poker pro Alex Jacob, and they introduced her to the online poker community, like the forums, that helped her hone her skills and learn more about strategy. After college, while turning into an avid poker player, she took several jobs, such as working for a non-profit organization and as a management consultant.
 Where Vanessa found her niche was back in poker, as she turned her consultant skills to the internet and became affiliated with Deuces Cracked, a website that makes instructional poker videos and offers one-on-one lessons via the internet to poker players around the world. As a coach, she has been able to take her own game to another level, which is when she began playing tournaments in 2006. She cashed twice at the World Series of Poker that year, including one final table in the $2000 no-limit hold'em event. The following year, she had another two money finishes, both of which were final tables – an eight place in the ladies championship event and a third place in the $5000 heads-up event.
 While maintaining a home in Brooklyn, New York, Vanessa has still found the time to travel for numerous tournaments, including the L.A. Poker Classic in February of 2008. She cashed in two preliminary events and won the WPT Ladies event there, defeating Erica Schoenberg in a heads-up battle. She then traveled to Las Vegas in April of 2008 to compete in the WPT Ladies Championship, and she again did well, making it to the final table and finishing in second place. In her short time on the tournament circuit, she has accumulated more than $330,000 in winnings, and though she plans to continue competing, she will also be returning to school in the fall of 2008. Having wanted to attend law school for a number of years, her ultimate goal is to achieve the advanced degree and return to work at non-profit organizations.