Undoubtedly for those who followed the last stages of the days 6 and 7 of the Main Event was a surprise that Sam Holden, a very intelligent an curly English, with just 22 years became one of the November Nine. But he trusted in himself and still being short stack for several passages in the fight, played each hand and was able to fulfill his first dream: to pass into history and play the final table of the most important tournament in the poker world.
But his dream is just beginning, though left behind thousands of players who began this crossing. Now only eight players stand between him and the much coveted bracelet. In this exclusive interview for www.hablandodepoker.com, a site that tries to spread the poker through the word of the protagonists, we can know what a November Nine thinks. From what we perceive, he is the still not aware of how changed his life from now on.
To our loyal readers we present: Sam Holdem, a November Nine, 48 hours later of his achievement.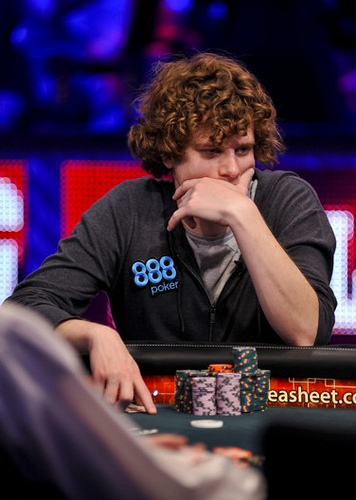 What means to you to be a November Nine?
It feels fantastic to be part of the November Nine. Being on the biggest stage in poker is something every poker player dreams of. The hiatus in the tournament has really made the final nine something special, and having 4 months to enjoy it is going to be a lot of. I feel incredibly fortunate to get passed so many fantastic players and therefore will definitely try to enjoy every second of being a 'November Niner'.
48 hours later that moment, Are you conscious about what you`ve achieved?
It definitely hasn't sunk I yet. I still keep thinking that it can't be real. I'm sure once I am into the swing of these interviews and media attention it will all seem more real.
Could you sleep the night after the tournament?
A little, but it was very difficult! I think I have had about 5 hours sleep in the last 48 hours. I am definitely ready to sleep for a long time now though!
Which was the most important hand that let you reach to the final table at the Main Event WSOP 2011?
I was actually all in on day 2 with a pair and flush draw on the flop against a set. I made the flush on the turn wasn't all in again until Day 6 I think so I guess that was a pretty important hand!
Do you think you can get the bracelet y enter in the History?
It's definitely possible. I am 9th in chips but have around 25BBs so a little room to manoeuvre in the early stages. No one is super short like in previous years. It will be very tough playing against great players with more chips than me but I am confident that I can have a chance to make something happen.
How will you do to live this months until November 5th. And how will prepare to the final table?
I will be working on my game a lot, trying to get in a lot of live experience against some tough players in tournaments around Europe. I'll also do plenty of homework watching the ESPN broadcasts both to check out my own game, and my opponents.
Who do you think it will be the most difficult opponent at the final table?
For me the most tough opponents will be Pius Heinz and Ben Lamb because they are both great players who will be sat on my right. The whole table is full of tough players as you would expect in a tournament with such a great structure. Everyone has had to be doing something right to get this far!
Which tournaments are you thinking to play until November?
I am pretty sure I will be playing the WSOPE in Cannes and EPT London, other than that I have not made any plans, it will probably depend on which commercial opportunities arise.
To know you better, How did you start in poker? When and how did you start playing the Main Event in Las Vegas?
I initially started playing poker for play money on the internet. I had seen it on the TV and enjoyed card games and I really got into it. After a while I started depositing online and giving the real money games a go. Once I got to university I started taking it more seriously, talking to other players, reading books and gradually getting better. In my final year at university I made some good progress and decided to give it a go full time after I graduated. The year went pretty well and I eventually decided to come out to play the WSOP.
To finish with the interview, When will you return to your country and how do you think you will be welcome by your family and friends?
I am home already! I managed to get on a flight the day after we made the 9. It was a bit of a rush as I had to do some media stuff in the morning but I managed to catch my flight at 16.40. I am now pleased to be back in Canterbury and chilling out. The messages from all my friends and family have been amazing, the support I've received has really surprised me, so many people have taken an interest who previously knew nothing about poker (including my parents!). It was really a great help throughout the tournament and I can't wait to see everyone and thank them individually!
By Patocuac08 and Tiagosik